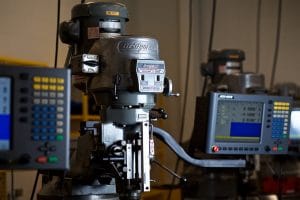 The Vermont Manufacturing Collaborative (VT-MC) officially launched in July 2019 as a public-private partnership between industry, higher education and various technical and support resources.
VT-MC is hosted by Vermont Technical College (VTC) at the centrally- located main campus in Randolph Center, Vermont.  The VT-MC mission is: "To advance Technology-enabled Manufacturing and associated Workforce Readiness in Vermont and beyond through collaborative public-private partnerships and opportunities at work in innovative learning, teaching and manufacturing environments. The partners involved with VT-MC strongly believe that the combined use of Additive Manufacturing (AM or 3-D Printing) to create innovative design and production techniques, along with "Industry 4.0" technologies and best practices, represent important drivers of Vermont's manufacturing "future state."
Key Goals & Achievements of VT-MC during its First Year (2019-2020) 
Developed a comprehensive understanding of the Vermont advanced manufacturing sector, primarily in the precision metals sub-sector.
Developed an appropriate, value-adding cooperative partnership model that initially focuses on additive manufacturing technology, design and application, with a business model that enables VT-MC to become financially self-sustaining.
Developing and implementing an AM Training and Education Curriculum that provides a standard of understanding in applying Additive Manufacturing technology, including for-credit and Certificate Additive Manufacturing courses that are being offered by Vermont Technical College in 2020.
Explore and establish increased collaboration between businesses and VT-MC that will focus on the purchase and operation of advanced, metals-based deposition printers.  This equipment will be located in Randolph Center on the main VTC campus. It will be available during regular class hours for training students and incumbent workers as well as be available to participating VT-MC businesses for R&D, prototyping and small batch production run needs.
Connect VT-MC partner businesses with potential new commercial and/or DOD business opportunities, both short-term and long-term.